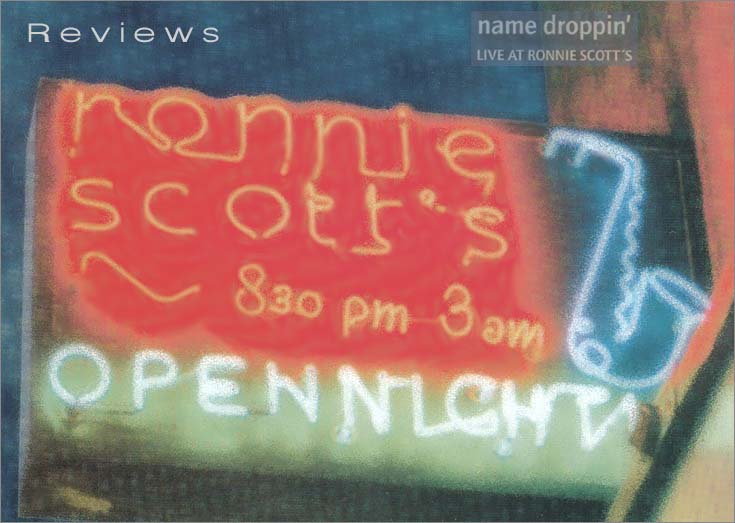 Name Droppin' and Walking Wounded (Go Jazz 1999)

Reviewed by Spider Robinson (March 2001)

I am presently in love. Head over heels. Wig-flipped and banjaxed. Jones'd to the bone. Over a pair of two-year-old CDs recorded six years ago...
I'm talkin' about a couple o' the truly great plates, gate -- cool spools, Jules -- absolutely brisk, no-risk disks -- two of the fatter platters of all the stridin' sides and waxed tracks ever stacked, Jack. I mean, I already sent for the wig-tappers...but they tell me they can't put my wig back on no mo', I blew out the socket this time...
Talkin' 'bout a matched pair of albums by Georgie Fame, with a crew of studs, stallions and blowin' heads collectively known as Walking Wounded: two albums titled Name Droppin' and Walking Wounded. Both were recorded live in Ronnie Scott's in London in November 1995, in the same week, and very possibly on the same night (the liner notes aren't clear). I have been listening to Walking Wounded and its prequel Name Droppin' compulsively at least twice a day since I stumbled over them a few months ago. They are, quite simply, two of the very finest live albums ever recorded anywhere by anybody. Georgie Fame on Hammond organ and piano -- and of course that mellow alto sax of a voice -- backed by demonically gifted young men on vibraphone (Anthony Kerr), trumpet (Guy Barker), alto (Peter King), tenor (Alan Skidmore), standup bass (Geoffrey Gascoyne, who should be kept chained up somewhere and fed raw meat), incredibly understated guitar (Tristan Powell, who co-produced with Georgie) and drums (his brother James Powell). If you're a musician yourself, this is where you go to surrender, right here.
If not...every time you ever put your glad rags on and went out to a club, this is the set you were hoping to catch... and almost never did. The magic perfect night. That time you and someone you love transcended drunk together in some smoky dive. Got so high you forgot to light the joint. Had so much fun holding hands you forgot to go home and screw. Rode the music straight off a cliff together, and for a few shining hours finally just dug it.
It's not just the material -- it's the provenance. Georgie's the Real Deal: he was there. When, early on in Name Droppin', he dedicates Ray Charles and Percy Mayfield's Tell Me How Do You Feel to Eddie Cochran, "who first introduced the music of Ray Charles to the masses of this country, on that tragic tour in 1960" (Cochrane died before it was over), he neglects to mention that the 17-year-old Georgie Fame was on that tour. All the names he drops, over the course of the two albums, all the blessed golden sainted names -- Mose Allison, Joe Zawinul, Fran Landesman, King Pleasure, "Speedy" Acquaye, Sweets Edison, Lambert Hendricks & Ross, Van Morrison, Groove Holmes, Stan Getz, Lionel Hampton, Brother Ray and Percy, Chet Baker, Phil Woods, John Coltrane, Fats Domino, Betty Carter, Clifford Brown, Chris McGregor, Clark Terry, Hoagy Carmichael -- these are all cats and kitties Georgie has known and hung with and played with over the years and every damn one of them, alive or dead, must regret having missed these two sets.
Together the two CDs, 60 and 72 minutes of music respectively, constitute a sort of millennial summing-up of the very best music that was created on planet Earth in the past century. More than that: a summing up of the sensibility, the head, the vibe, the spirit, the chronically laconic but rarely sardonic, elastically iconoclastic but seldom spastic or drastic, cool as a jewel but never cruel approach to the universe and the Human Dilemma that produced that music and thereby justified that century's existence. When history judges the 20th century, these two albums will be primary exhibits for the defense.
"No prisoners! No prisoners!" Georgie gleefully cries as he leads the Walking Wounded into an infectious final instrumental...and then a moment later, "No exiles! No exiles!" Earlier, in the middle of a leisurely stroll through How Long Has This Been Going On, he gently alters the lyric of the bridge to, "...I know how/Chet Baker felt/when he found that Other World..." -- but he doesn't really need to tell us: his vocal interpretation has already made it crystal clear that Georgie does indeed know exactly that.
Sample lyrics -- from Eros Hotel, a slow jazz ballad, solo piano and vocal by Georgie, a tune he put on a Fran Landesman poem:
Let's go up to the Eros Hotel
And write love songs
On the sheets
We'll climb the dusty carpet stairs
The smell of hurried
Love affairs
Old victories and defeats
There's a bar in the Eros Hotel
It's like a party all the time
That's where you meet the unicorn
The young man with
The golden horn
They all know how to rhyme
Girl, I've never been alone with you
I don't know how good we could be
And if we should collaborate...
Would the music of you
Fit the lyric of me?
Let's go up to the Eros Hotel
And write some love songs
On the sheets
The sheets are worn and soft as sin
From all the loves
That might have been:
The sweet sonatas of the skin at dawn
At the Eros Hotel
There's no describing a tune, of course, but all I can tell you is that it's been over a week now and I just can't get the damn song out of my head. I keep singing it over and over as I walk the quarter mile to the mailbox in the rain, hearing Georgie's silver-bullets piano accompaniment in my head and trying to figure out a way to make its terrible simplicity work on a solo acoustic guitar. I'll get it...or die trying; either is cool.
But I err if I give the impression that I'm talking about 132 minutes of slow ballads. Saint Bernards should carry CD players with these two albums strapped under their necks: even the most frostbitten toes would involuntarily tap themselves back to life, every time. I know you've already heard a lot of people take a hack at Moondance -- but as Lord Buckley once said, "you may have heard all kinda jam sessions blowin off, you may have heard New Orleans licks, you may have heard it Chicago Style, you may have the bebop version, you may have dug all kind of musical insane flips from the wildest and the most insane, but you studs an' stallions an' cats an' kitties never dug any session like these cats blew!"
Georgie Fame was the first living thing to knock the Beatles out of the Top Ten, with his relentlessly swinging version of Jon Hendricks's bossa-supernova Yeh Yeh. (Smokingly reprised on Walking Wounded.) Far from being cheesed, the Fabs sent him a telegram of raucous sincere congratulation; to this day Paul McCartney says Georgie is his favorite nightclub act -- possibly because Georgie was onstage singing (at the Bag o' Nails) when Paul and Linda first bumped into each other on the way to the loo.
And I hope I haven't given the impression we're talking about a lot of carefully reproduced dinosaur music, a picking of the bones of a century of dead hipsters by some aging dilettante Brit. Wrong. Better than half the tunes on these albums are Georgie Fame originals. It's just that he's a contemporary and peer of all those gone great ones. And he's still here, and hasn't lost a step, a lick or a note off the top of his range since he and the Fabulous Flames used to hold court at the Flamingo for weeks at a time back in the 60s. He's entitled to drop names. And so are each of the frighteningly talented young lads he's gathered here, keepers of the True Fabulous Flame. Dig him/them now.
Inexplicably, the two CDs have almost identical jackets (differing only in the titles, which are in small print) -- and yet make absolutely no reference to each other. Don't ask me. Once again, they are: Name Droppin' -- Go Jazz CD: GoJ 6021 2 (1997), and Walking Wounded -- Go Jazz CD: Go 6036 2 (1998). If you like them, you'll also love Georgie's latest release, Poet In New York -- Go Jazz GO 6044-2 (2000) -- which was produced by Ben Sidran. For once Georgie takes his hands off the keys, leaving instrumental chores to a superb quartet, in order to concentrate solely on his vocals. The results are -- even for him -- astonishing.
Copyright © Spider Robinson 2003




Archives | Name Droppin' | Liner Notes | The Players | Buy Name Droppin' | Home

Graphics copyright © 2003 Go Jazz Records | Photograph of Ronnie Scott's copyright @ 2003 Tristan Powell